Unmasking the Theatre of the 20s
1.11.2014
newindianexpress.com, 30 октября 2014 г.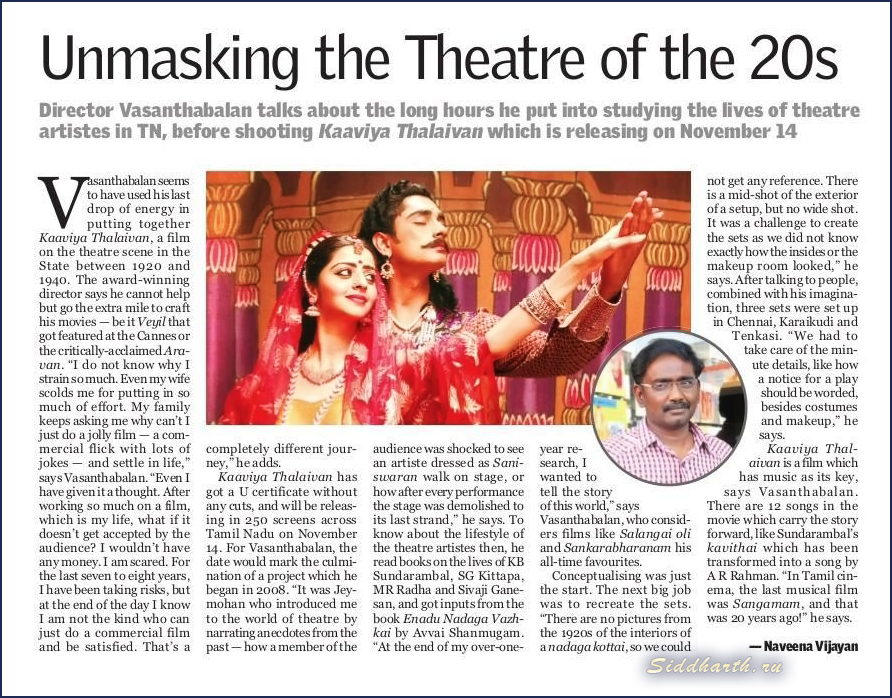 Unmasking the Theatre of the 20s
Vasanthabalan seems to have used his last drop of energy in putting together Kaaviya Thalaivan, a film on the theatre scene in the State between 1920 and 1940. The award-winning director says he cannot help but go the extra mile to craft his movies — be it Veyil that got featured at the Cannes or the critically-acclaimed Aravan. "I do not know why I strain so much. Even my wife scolds me for putting in so much of effort. My family keeps asking me why can't I just do a jolly film — a commercial flick with lots of jokes — and settle in life," says Vasanthabalan. "Even I have given it a thought. After working so much on a film, which is my life, what if it doesn't get accepted by the audience? I wouldn't have any money. I am scared. For the last seven to eight years, I have been taking risks, but at the end of the day I know I am not the kind who can just do a commercial film and be satisfied. That's a completely different journey," he adds.
Kaaviya Thalaivan has got a U certificate without any cuts, and will be releasing in 250 screens across Tamil Nadu on November 14. For Vasanthabalan, the date would mark the culmination of a project which he began in 2008. "It was Jeymohan who introduced me to the world of theatre by narrating anecdotes from the past — how a member of the audience was shocked to see an artiste dressed as Saniswaran walk on stage, or how after every performance the stage was demolished to its last strand," he says. To know about the lifestyle of the theatre artistes then, he read books on the lives of KB Sundarambal, SG Kittapa, MR Radha and Sivaji Ganesan, and got inputs from the book Enadu Nadaga Vazhkai by Avvai Shanmugam. "At the end of my over-one-year research, I wanted to tell the story of this world," says Vasanthabalan, who considers films like Salangai oli and Sankarabharanam his all-time favourites.
Conceptualising was just the start. The next big job was to recreate the sets. "There are no pictures from the 1920s of the interiors of a nadaga kottai, so we could not get any reference. There is a mid-shot of the exterior of a setup, but no wide shot. It was a challenge to create the sets as we did not know exactly how the insides or the makeup room looked," he says. After talking to people, combined with his imagination, three sets were set up in Chennai, Karaikudi and Tenkasi. "We had to take care of the minute details, like how a notice for a play should be worded, besides costumes and makeup," he says.
Kaaviya Thalaivan is a film which has music as its key, says Vasanthabalan. There are 12 songs in the movie which carry the story forward, like Sundarambal's kavithai which has been transformed into a song by A R Rahman. "In Tamil cinema, the last musical film was Sangamam, and that was 20 years ago!" he says.
By Naveena Vijayan