Siddharth's First Look in Jil Jung Juk
10.11.2015
IndiaToday.in, Kollywood Times (newindianexpress.com), desispy.com, 01-02 ноября 2015 г.
Jil Jung Juk first look: Look at the new avatar of Siddarth in the upcoming black comedy
Siddharth, who took to Twitter to share the new poster of the film, said that he is very proud to work with the young team of Jil Jung Juk.
The first look of Siddharth's upcoming film is as intriguing as the film's title: Jil Jung Juck. The film is helmed by Diraj Vaidy, a debutant, who has worked with Karthik Subburaj as his assistant in Jigarthanda.
---
Kollywood Times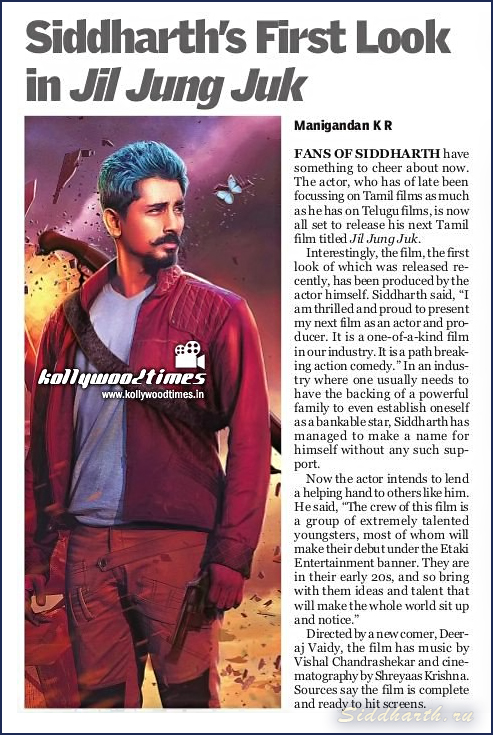 Siddharth's First Look in Jil Jung Juk
Fans of Siddharth have something to cheer about now. The actor, who has of late been focussing on Tamil films as much as he has on Telugu films, is now all set to release his next Tamil film titled Jil Jung Juk.
Interestingly, the film, the first look of which was released recently, has been produced by the actor himself. Siddharth said, "I am thrilled and proud to present my next film as an actor and producer. It is a one-of-a-kind film in our industry. It is a path breaking action comedy." In an industry where one usually needs to have the backing of a powerful family to even establish oneself as a bankable star, Siddharth has managed to make a name for himself without any such support.
Now the actor intends to lend a helping hand to others like him. He said, "The crew of this film is a group of extremely talented youngsters, most of whom will make their debut under the Etaki Entertainment banner. They are in their early 20s, and so bring with them ideas and talent that will make the whole world sit up and notice."
Directed by a new comer, Deeraj Vaidy, the film has music by Vishal Chandrashekar and cinematography by Shreyaas Krishna. Sources say the film is complete and ready to hit screens.
---
First Look: Siddharth's Rocking look in Jil Jung Juck
Critics may have thought of him off for not scoring industry hits, but rather hero Siddharth never stops to flabbergast us. All his most recent Tamil flicks like Jigarthanda, Kavya Thalaivan, Enakkul Oruvan have won critic acclaim.
First Look: Siddharth's Rocking look in Jil Jung Juck Siddu is thinking of a dim drama now and it is titled "Jil Jung Juck". Produced by Siddharth himself under another comer Deeraj Vaidy's bearing. To begin with look of this film is doing rounds all around now. For his rough look with spun mustache, calfskin coat, firearms and oily standpoint, doubtlessly our Nuvvostanante Nenoddantana star is the show stealer. Additionally it demonstrates that you can't discount him so effectively saying that his juice is over. No, it isn't. While he is not grabbing Telugu movies nowadays, his fans are anticipating that him should release this "Jil Jung Juck" at the same time in Tollywood as well.