Rang De Basanti's Siddharth joins TeachAIDS
19.08.2014
teachaids.org, 24 ноября 2013 г.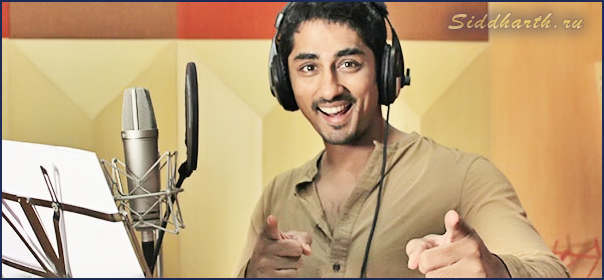 Photo: Actor Siddharth finishes recording his lines for the male student in the Tamil version
of TeachAIDS at Rajiv Menon Productions in Chennai, Tamil Nadu.
Rang De Basanti's Siddharth joins TeachAIDS
"Through the TeachAIDS animations, I'm endorsing curiosity, which is one of my favorite virtues. You have to ask questions, you have to ask them again and again until you know exactly what you're asking for and you get your answers and are satisfied with the replies you get, especially when it comes to topics like HIV." - Siddharth
Indian actor, producer, writer, and playback singer Siddharth has joined the TeachAIDS team as the voice of the male student in the Tamil language version of the HIV prevention software.
Siddharth studied Commerce at Kirori Mal College in New Delhi, where he was part of a college theater group called The Players. He also attended the prestigious S.P. Jain Institute of Management and Research in Mumbai, where he earned an MBA. His charm and public speaking skills also earned him the 'CNBC Manager of the Year' in 1999. After completing his higher education, Siddharth served as the assistant director to Mani Ratnam on the film Kannathil Muthamittal. Soon thereafter he debuted in S. Shankar's Boys, in which he played the role of Munna. The film was originally made in Tamil then dubbed in Telugu, which gave Siddharth an opportunity to enter both the Tamil and Telugu film industries simultaneously.
His first official Telugu film was Prabhu Deva's Nuvvostanante Nenoddantana, which was a critical and commercial triumph. Siddharth received the Filmfare Best Actor Award - Telugu for his role. With continued success across multiple movie industries in India, Siddharth is particularly celebrated for his role in the iconic Bollywood movie, Rang De Basanti, alongside the legendary Aamir Khan. Siddharth played the character of Karan Singhania and garnered the Star Screen Debut Award for his powerhouse performance.
Siddharth is no stranger to socially relevant issues. He has previously worked on the short film Blood Brothers, which was part of Mira Nair's AIDS Jaago initiative. The film was a collaboration of Bollywood director, Vishal Bhardwaj, and Oscar-winning cinematographer, Guillermo Navarro, and was showcased at the Toronto International Film Festival in 2007.
With TeachAIDS, Siddharth believes in the power of celebrities in reaching young people. "It's great to use celebrities because their voices bring a familiarity and kind of a trust." He further notes, "it's very important for the generation that we live in to prioritize. Know what really is important, especially when it comes to fighting the AIDS epidemic. It's not about giving into peer pressure, it's not about being cool, it's not about ever taking the easy route. It's always about standing your ground, knowing what you believe in and giving it importance."
TeachAIDS is pleased to have the talented and compassionate Siddharth as part of our team. Together, our cultural icons are influencing young people across the globe and empowering them with knowledge about prevention.