Konchem Istam Konchem Kastam music launch
4.02.2015
idlebrain.com, 09 января 2009 г.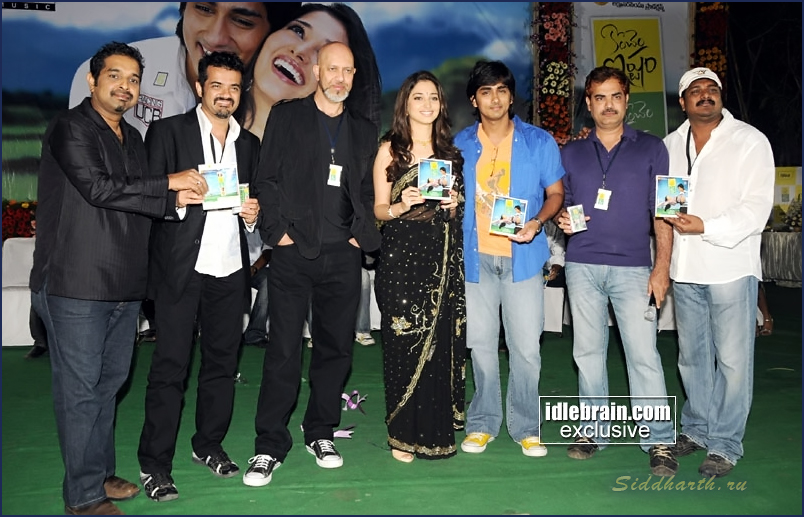 Трио композиторов Шанкар Махадеван, Эхсан Нурани, Лой Мендонса,
Таманна, Сиддхарт, режиссер Кишор Кумар и продюсер Налламалупу Будджи.
Konchem Istam Konchem Kastam music launch, Hyderabad
Music launch of Siddhardh's latest film Konchem Istam Konchem Kastam was organized at Durgam Cheruvu on the evening of 9 January 2009. This film is produced by Nallamalupu Bujji and directed by Kishore Kumar Parthasani. The trio of Shankar Ehsaan Loy is composing music for the first time for a Telugu film. Tamanna plays female lead.
The guest list of the function include VV Vinayak, NTR, Venkatesh, D Suresh Babu, Gopichand, Dil Raju, Kodali Nani, Bhaskar (Bommarillu), Shankar-Ehsaan-Loy (Shankar Mahadevan, Ehsaan Noorani, Loy Mendonsa), Tamanna, Siddhardha, Venu Madhav, Chandrabose, Srivas, Vijay Chakravarthy, Raju Sundaram, Abburi Ravi, Vikram Siri, Deepak Raj, Harish Shankar, Samrat, Karuna and Ramajogaiah Sastri.
VV Vinayak launched the audiocassette and gave the first unit to Gopichand. Venkatesh launched audio CD and gave the first unit to NTR.
Film Nagar people are saying that KIKK is better than Bommarillu - Bhaskar
Bommarillu Bhaskar said, "Dolly (Kishore Kumar) is a close friend of me. I knew the story of the film. There is talk in film industry that this film has come out better than Bommarillu film. I listened to the music and it is extraordinary."
I saw the film – Kodali Nani
Kodali Nani said, "Bujji is a very good friend. He has shown me the film 15 days back. It did not have re-recording and it was partly dubbed. I loved that film and I am expecting this film to become a super hit."
Genuine feedback to Bujji and vice versa – Dil Raju
Dil Raju said, "I distributed Aadi film for Nizam. I knew Dolly and Bujji from those days. Bujji gives me his honest feedback about my films and I give him genuine feedback for his films. People are already comparing KIKK with Bommarillu in terms of flavor and emotions. I had a doubt about the entertainment aspect in Dolly's work. But Brahmanandam gave the best compliment about comedy in this film. Siddhardh did a 365-feet climax scene in single shot. I am sure that he rocked in this film as well."
Kodali Nani has 100% judgment – VV Vinayak
VV Vinayak said, "Dolly and Vasu Varma are amazing prospects in direction field. Both of them will reach peaks in their profession. I would like to thank Bujji for giving an opportunity to Dolly. I have good judgment and my judgment goes right 80% of time. But Kodali Nani has 100% judgment. He certified KIKK and it would surely become a super hit. I would like to thank the music directors for giving wonderful music."
Actor Venkatesh said, "KIKK is a product of youthful team. Bujji is a sincere producer. Music of the film is fantastic. I hope that Shankar Ehsaan Loy will do more music in Telugu."
Gopichand said, "Bujji has previewed songs to me and they are excellent. Bujji is a passionate producer. I am sure that Bujji will make more money with the hit of KIKK."
I wish to work with Shankar Ehsaan Loy - NTR
NTR said, "The titles of Bujji films show the traveling path of Bujji. Bujji started his career with Aadi (beginning). And his next film was Lakshmi which symbolizes money. He made lots of money with that film. His third film was Lakshyam (target). He became more focused with Lakshyam. His latest film KIKK denotes that he made this film with love and hard work. Dolly is a close friend to me and I am very happy for him. I am a huge fan of Shankar Ehsaan Loy from Dil Chahta Hain to Rock On. I wish to do a film with them soon."
Actress Tamanna said, "I am feeling proud to do this film. It is a beautiful film. I will become a huge hit. Siddhardha is an awesome co-star. I am a fan of Shankar Ehsaan Loy."
We did an honest job with KIKK – Shankar Mahadevan
Shankar Mahadevan said, "I sung for most of the music directors here and most of the heroes here. We did not know who Bujji and Dolly were when they approached us. But I could see inherent drive and passion in them to make a good film. It impressed us. The story of this film inspired us to compose music for our debut in Telugu. We did an honest job with KIKK."
Rama Jogaiah Sastri said, "When I heard the story, it brought tears to me. I penned a song in this film."
Cinematographer Vijay Chakravarthy said, "We did honest efforts for this film. I believe that honest efforts never fail."
Samrat and Karuna expressed their happiness over working for this film.
KIKK will be a technical milestone in my career - Siddhardh
Siddhardh said, "I was a huge fan of Shankar Mahadevan. I met him 12 years back in Delhi where he did a concert. I took his autograph in the backstage. When I told him my name, he said that his son's name is also Siddhardh. AR Rehman's Roja changed the music trend in India films forever. The same with happen with KIKK music too in Telugu. Kishore Kishore is the future great director of Telugu cinema. I am impressed with Tamanna when she mouthed a three line Telugu dialogue at one go. I am doing a Telugu film after a long gap. Bujji has put in lots of efforts for this film. KIKK will be a technical milestone in my career. Vijay Chakravarthy will become the best cinematographer of south India with this film. KIKK will be the biggest hit in my career."