Koncham Ishtam Koncham Kashtam Success Meet
5.02.2015
ragalahari.com, idlebrain.com, bharatstudent.com, nagfan1, 07 февраля 2009 г.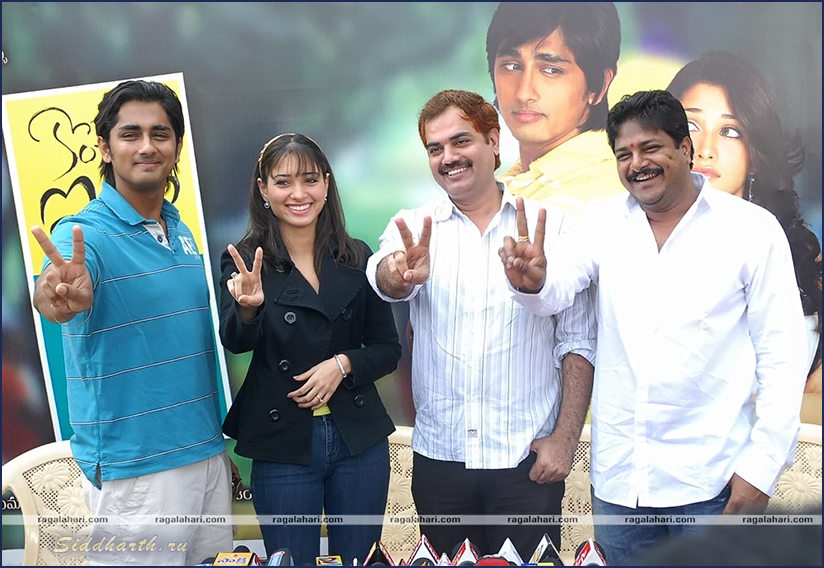 Koncham Ishtam Koncham Kashtam Success Meet
The film 'Konchem Istam Konchem Kashtam' featuring Siddarth, Tamanna, Prakash Raj and Ramya Krishna, directed by Kishore Kumar and produced by Nallamalupu Srinivas under Lakshmi Narasimha Productions banner was released on February 5 and earned good reviews from critics and audience as well. On this occasion the unit of KIKK has arranged a press meet today, at Ramanaidu Studios to share the success and for further promotion.
"The youth of the present world think that it is their "Right to Love". But at the same time parents' role also play a vital role in their children life. The bonding between parents and children has been well portrayed in this film. I'm happy that I was able to present the film in the way I wanted to", said the director Kishore Kumar.
Siddarth while speaking, "With KIKK, I would be hitting a hat trick soon. The film discusses about the young boy whose parents get separated after he was born even though they were lovers before marriage. Being a family entertainer, it has all the emotions and sentiments in it. The scenes involving Prakash Raj and I are well received by the audience. The music is very good and it carries along with the mood of the film. Enough care is being taken to prevent piracy for the film and I thank all audience who are enjoying the film in theaters".
Producer Nallamalupu Srinivas expressed his happiness with the outcome of the film. He said that he completely trusted the director, thus able to see the audience response in a positive way.
Tamanna thanked the audience for appreciating the film and conveyed that it is her 4th film in Telugu.
---
Konchem Istam Konchem Kastam success meet
Hyderabad
Success meet of Siddhardh's latest film Konchem Istam Konchem Kastam was held at Rama Naidu studios today. Siddhardh, Tamanna, Kishore Kumar and Bujji attended this meet
Siddhardh said, "I am happy that I am associated with this banner that has been delivering hit flicks. This film is collection really good. This is my hat-trick film. It is a family oriented film with good songs. The character of hero in this film is being liked by everybody. This film is like part 2 of Kushi film. It film discusses about the boy who suffers from the divorced parents. My drinking scene with Prakash Raj is being enjoyed by everyone. Producer has taken many precautions to prevent piracy. I would like to thank audiences for making this film a hit."
Director Kishore Kumar said, "Youth are thinking that love is their fundamental right. We have shown how parents can influence and guide their young sons/daughters in this love issues. This film is all about human relations. Audiences are feeling the way I felt when I was writing the script."
Tamanna said, "This is my fourth film. I would like to thank everybody for encouraging KIKK film."
Producer Nallamalupu Bujji said, "I got confidence on the film when the director narrated me the story. And my trust on the director proved right. I am happy about the response of the movie lovers on this quality film."
---
** Видео (6 мин) с этой пресскоференции можно посмотреть по ссылке:
bharatstudent.com
Konchem Istam Konchem Kastam Success Meet
Success meet of Siddhardh's latest film Konchem Istam Konchem Kastam was held at Rama Naidu studios today. Siddhardh, Tamanna, Kishore Kumar and Bujji attended this meet
---
KIKK Success Meet @ tollywoodrulz.com
nagfan1