KAAVIYATHALAIVAN MOVIE RELEASE EXPECTATION
2.12.2014
behindwoods.com, 26 ноября 2014 г.
KAAVIYATHALAIVAN MOVIE RELEASE EXPECTATION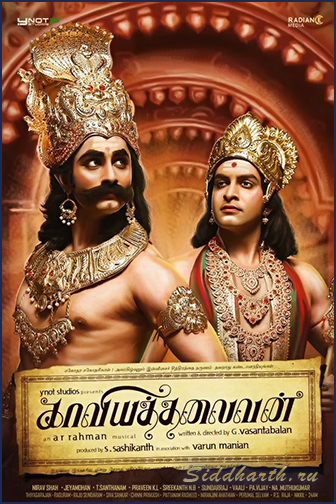 Review by : Behindwoods Review Board
Release Date : Nov 28,2014
CAST AND CREW
Production: S Sashikanth, Varun Manian, Ynot Studios
Cast: Anaika Soti, Prithviraj Sukumaran, Siddharth, Vedhika
Direction: G Vasanthabalan
Screenplay: G Vasanthabalan
Story: G Vasanthabalan
Music: AR Rahman
Background score: AR Rahman
Cinematography: Nirav Shah
Dialogues: Jayamohan
Editing: NB Srikanth, Praveen K. L
Art direction: T Santhanam
Dance choreography: Raghuram, Raju Sundaram, Siva Shankar
Singers: Haricharan
Lyrics: Na Muthukumar, Pa Vijay, Vaali
PRO: Nikhil
Distribution: Dream Factory
Vasanta Balan's most ambitious project till date, Kaaviya Thalaivan is set for a grand release this weekend. With a stellar star cast, including Siddharth, Prithviraj, Vedhika, Anaika and Thambi Ramaiah in the lead, Kaaviya Thalaivan has music by Academy Award winner AR Rahman.
In a recent interview with us, producer Sashikanth explained, "The movie is about actors fighting for the stage in the 1940s; it's a trend that continues to date. You have your MGR & your Sivaji; your Rajini and your Kamal. There are always 2 kinds of actors in a particular era. So there is a thread in this lineage of our cinema that can show the 2 kinds of actors, and Siddharth & Prithvi's dedication to the roles, to show this is outstanding. I think after a very long time this will be a movie that will stand out even just for the acting that has gone into it. This is an actors' movie!"
"When Vasanta Balan independently approached us, I spoke to Siddharth and he reaffirmed that it was a great project. There are projects that can confirm a brand identity for a company. With this we knew instinctively that this was something that could place [Y NOT] above the level that we were involved in till date," believes Sashikanth.
He adds, "I think the film has a very similar feel to the classic Sivaji film Thillana Mohanambal (1968). That's a film where they talk of a small set of musicians, and how 20-30 people in a troupe live together. The first half of Kaaviya Thalaivan has that essence of how troupes stick together.
Adding his view on Kaaviya Thalaivan, actor Siddharth says, "For Kaaviya Thalaivan, I've been travelling with Vasanta Balan for around 3 years. And everybody who came in to work for the project fell in love with it. The film holds a great magnitude of passion and faith. We have been wondering if our industry is ready for a project as superior as Kaaviya Thalaivan. But Vasanta Balan has a one point agenda. He believes if the content is strong, people will love it."
Censor Certificate: U
Runtime: 2 hours and 28 minutes