Jigarthanda 50 days: This "cold-heart" found its way into the hearts of many
25.09.2014
facebook.com, 19 сентября 2014 г.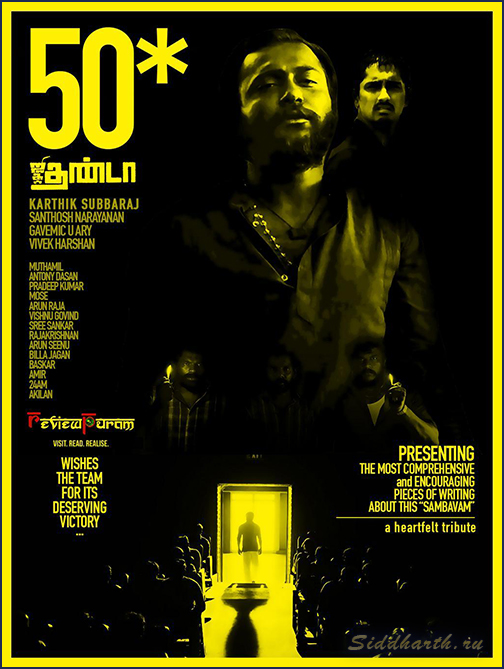 Jigarthanda 50 days: This "cold-heart" found its way into the hearts of many
50 days have passed since Tamil Cinema saw a near-perfect meta-"sambavam", presented by the makers of 2012's delicious cult offering, #Pizza. 2 years later they get to the rowdy capital of TC, Madurai, to dish out yet another delicacy, in the form of a dessert named #Jigarthanda.
This "cold-heart" found its way into the hearts of many, and few were able to translate this receipt of expressions into wonderful pieces of writing. Here are the most comprehensive articles on the film that you are sure to love going through! (Ordered randomly, the list has not been ranked in any way)
[I have added my statements with a "Me:" tag]
Starting with Baradwaj Rangan -
Me: This man can make the review of the possible worst film, look like a freaking masterpiece from some elite journal! Now, c'mon he's the man who wrote "Conversations with Mani Ratnam", what else do you expect
________________________
Sudhish Kamath
"To wait for English subtitles for a film that's telling you how cinema is all about the emotion behind the "gibberish" is against the idea and the spirit of the film itself. You would be surprised at how much you understand just face-reading this film."
________________________
Mani Prabhu (MAMZ)
• Breaking Down Jigarthanda's Recipe For Awesomeness: A TRILOGY
Me: Probably the most famous and all-inclusive article you would come across about the film. Reading his trilogy was a literal revisit of the experience. My personal favourite of anything I read about the film.
________________________
J. Hurtado (Twitch)
Me: I would consider this a prestigious feature, and also something to be very proud about. This is how a Tamil film places itself on the map of worldwide cinema.
[J Hurtado is Twitch's connection to the world of Indian cinema. Located in the South Asian diasporan capital of Dallas, Texas, J is able to keep tabs on Bolly, Kolly, Tolly, Molly, Sandal, and Lollywood for your reading pleasure. In addition to being among the only mainstream writers focusing on South Asian cinema, he is an avid supporter of independent and cult home video.]
________________________
Lepak Bro!
________________________
PipingHotViews
• Review
http://pipinghotviews.com/moviereviews/tamil/jigarthanda-tamil-2014/
"With its rustic characters, extraordinary script, fabulous camera work & spectacular music, Jigarthanda punches above its weight by overcoming numerous obstacles. It is sure to become one of the cult movies that will be known for breaking cliches & creating new spaces for filmmakers to exploit."
________________________
Badri Parthasarathy (MAMZ)
"On the surface it is an unpredictable, entertaining film that will delight one and all. But scratch the surface and it has a lot of commentary to make on human selfishness and vanity."
________________________
Ravie Lakshmanan (The Rare Field)
"There's simply no word to encapsulate the sheer brilliance that's Jigarthanda."
Me: Loved the way this single paragraph convinces the reader about how much he (the writer) liked the film. And special thanks for leaving a mention about my write-up as well
________________________
Uneshddarann
"Jigarthanda is patently an innovator and trendsetter for new age Tamil films albeit one integral part being perfunctory."
________________________
Ram Anand
"A tinge of jealousy will always be there from me, as a fellow aspiring filmmaker, to achieve what he has done. Karthik has achieved what every young filmmaker who dream of doing things differently hope to achieve. But, there is also a note of thanks here from me- because Karthik has proved that if you knock on the door hard enough, there will be space aplenty for people like me, and him. For a comrade (Karthik) who has made it, I say happy Jigarthanda, and Puzhudi Parakum Paaru!"
Me: These thoughts of an aspiring director who wishes to make it big in TC, are honest and very inspiring as well. He admits to envying Subbaraj's success. Loved the article mainly for this aspect.
________________________
Balaji Kannan
"KS is allowed to have such a luxury in tonal shifts in his narrative without much fuss, is purely because of the brilliant choice of actors in the movie."
Me: Clearly states the flaws towards to the end of the article, and he does it in a very conclusive way! A short and precise account of his thoughts.
________________________
Raja Sekar (Cinemalead)
Me: Written with ease, with the focus not being on language, but simply on conveying how much the film impressed him. Wonderful read, throughout!
________________________
Other websites:
Me: Probably the very first "official" review to hit the internet! Read this many a times as it was the only "believable" and good piece of writing available until I watched the film later in the day.
Me: Such detailing _/_
________________________
And, I'm done! Hope these write-ups capture your interest, and induce your 8th sense of "sharing is caring" to make sure this film still reaches more people and doesn't end up as just another passing cloud...
Regards,
Akilan Nagarajan,
Founder | Reviewpuram
Do SHARE this article on the whole as well, if you really feel it deserves one!