Bava audio release function
3.11.2014
ragalahari.com, Tv9 News Updates, 13 октября 2010 г.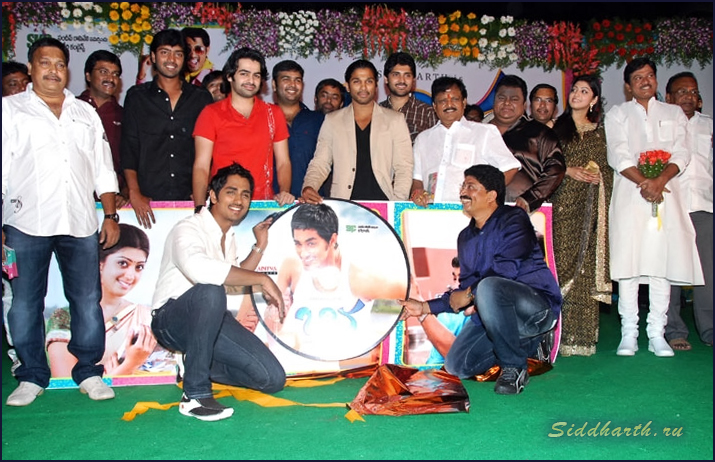 Bava Audio Release
Siddharth, Praneetha starrer 'Bava' had its music launched at Jayabheri Club in Hyderabad. ML Padmakumar Chowdary is producing this flick under Sri Keerthi Combines introducing Rambabu as director. The audio function was attended by K Raghavendra Rao, Dr Rajendra Prasad, Kodi Ramakrishna, Siddharth, Praneetha, Allu Arjun, Ram, Allari Naresh, Nikhil, Sunil, VN Aditya, Kasinath, Sagar, Rajitha, Chakri, Surekha Vani, Aravind Krishna, Narsingh Yadav, Bhaskara Bhatla Ravikumar, Anantha Sriram, etc.
The audio CDs were released by Allu Arjun and Ram and the first copies were received by Allari Naresh and Sunil.
Speaking at the audio function Allu Arjun said, "This film's presenter Sandeep is a very good friend of mine and I address him as Bava. I also address Ram Charan and Tarak as Bava and many boys too call me Bava. I wish the entire team of 'Bava' for a grand success."
Sunil commented, "We all call Siddharth as local Kamal Hassan. I learnt a lot from him."
Siddharth while speaking, "I'm dedicating this audio album to Late Veturi garu and Late Swarnalatha garu. After 'Oye', Chakri rendered very good music for this film too. The most unforgettable thing in my film career is that Keeravani garu lending his voice to one of the songs in this film. Likewise my dream to act with Rajendra Prasad garu is fulfilled through this film. I'm associated with director Rambabu for the past 6 years. It was Raghavendra Rao garu who advised me not to do class roles always but also at times to do films for the masses. Hence, this 'Bava'!"
Addressing the gathering Dr Rajendra Prasad said, "It's very thrilling to participate with youngsters in this programme. This film showcases the feelings of a young man when his beloved will address him sweetly as 'Bava'. Siddharth is a very unique actor."
"Siddu has a very good taste in music. I thank the lyricists and singers on this occasion", said music director Chakri.
Director Rambabu said, "I always be grateful to my guru (Rajendra Prasad) and Siddharth for doing this film with me. I thank my producer for believing me and making this film by investing in crores."
Producer ML Kumar Chowdary said, "I entered into film industry by producing my first film 'Joker' with Rajendra Prasad. And now I'm very happy to do 'Bava' once again with him. This is the 6th film for Chakri with our banner and he provided very good music to this film as well."
"I'm a very big fan of Siddharth right from my school days. I'm very happy to share the screen with my favourite hero", expressed heroine Praneetha.
Текст
---
Bava audio release function
Tv9 News Updates
часть 1-я
часть 2-я
часть 3-я