Bangalore based Global Consumer Products unveils LuvIt Brand of chocolates
6.06.2015
thebengalurutimes.blogspot.ru, thisweekbangalore.com, 05 мая 2015 г.
Bangalore based Global Consumer Products unveils LuvIt Brand of chocolates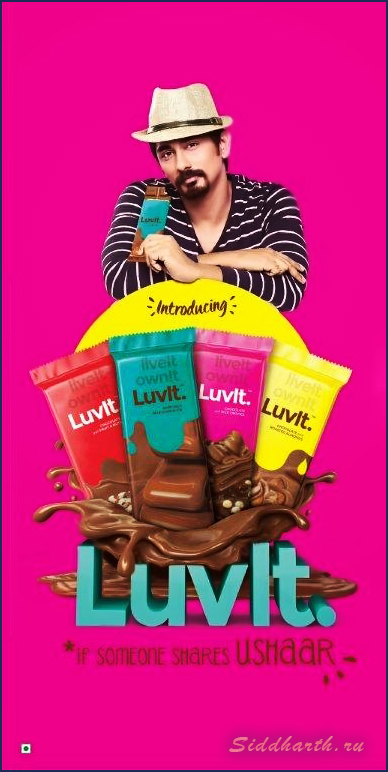 Signs South Indian Star Siddharth as the brand ambassador
Bengaluru, 5th May: There is a new reason to celebrate this holiday season: - the launch of the much anticipated chocolate brand LuvIt from Global Consumer Products. Global CP is a FMCG start-up promoted by Mr. A. Mahendran with a focus on launching innovative and differentiated brands in the food and beverage sector. The company unveiled the LuvIt brand and its range of chocolates at a press conference today.
Launched across nine variants and 14 SKUs, LuvIt is available in the key chocolate formats of Moulded chocolates, enrobed wafers, panned chocolates and caramel-nougat bars at various price points Rs 5, Rs 10, Rs 25, Rs 40 and Rs 45. This range has been christened as Dairy Rich, ChocWich, Caramelicious, Crazypops and Chocopops. The LuvIt brand is targeted at young consumers in the age group of 15 years to 30 years and has been positioned as a bold and trendsetting brand promoting the cause of Indulgence. The packaging has been designed in line with the philosophy of Live It. Own It. LuvIt. Keeping the young, new-experience seeking consumer in mind, the packs are in pop colors. Siddharth who is the "chocolate-boy" heartthrob of South India has been signed on as the Brand Ambassador for the LuvIt brand. Global CP also unveiled its clutter-breaking multi-media advertising campaign which includes a music video composed by none other than Santhosh Narayanan, a young music director hugely-acclaimed by critics and fans alike.
LuvIt Chocolates will be distributed and retailed across the southern states of Andhra Pradesh, Telangana, Tamil Nadu, Kerala, Karnataka and the Union Territory Puducherry. The company already has in place its GoToMarket strategy and has appointed a strong network of 80 distributors. The products will be available across supermarkets, large and small grocers, general stores, bakeries and chemists across Southern India.
The Rs 7,000 crore Indian chocolate market has been growing at a CAGR of over 20% and with new players coming in this number is expected to grow. The southern states account for almost 30 % of the national chocolate market and over 80% of the southern market is concentrated in urban centers.
Mr. A Mahendran, Chairman and Managing Director, Global CP said on this occasion, "This launch is an important milestone as it symbolizes the first step in Global CP's journey of capturing consumer mind space and market share by providing innovative, value-for-money, branded food & beverage consumer products. Global CP was born out of an idea to be one-of-a-kind start-up where entrepreneurial ambitions of various stakeholders can be nurtured. I am thankful to our Private Equity Partners Goldman Sachs and Mitsui
Ventures for the support in making the idea a reality. We will ensure utmost customer and stakeholder satisfaction through our product innovation and quality, our focussed distribution, and disruptive brand building."
Commenting on the LuvIt. Brand launch, Ms. Anuradha Narasimhan, Executive Vice President- Sales & Marketing, Global CP said, "We are excited to launch chocolates and delight the customer palate. Our packaging is young with a pop look and feel, and the advertising will strike a chord with the young. Siddharth was our first choice as brand ambassador as he has a huge fan following across the southern states. We intend to build brand awareness and quick trials through our 360 degree media and activation program touching young people across the top 25 cities in the south. The LuvIt. Brand Philosophy is that Indulgence begins with an "I" and our message to all young people is to LiveIt. OwnIt. LuvIt."
On being associated with the LuvIt. Brand, Siddharth had this to say: "I am delighted to be associated with the brand. I have been Chocolate Boy for a while now, and with LuvIt chocolates I will truly live up to the moniker of being Chocolate boy Siddharth. I have been eating LuvIt Chocolates and I believe that they are so delicious that they are Best Enjoyed by Oneself. I have enjoyed working with the LuvIt brand and agency team on the advertising campaign and I want to leave my fans with one simple message- I LuvIt."
Headquartered in Bangalore, Global CP is now a soaring company with a strength of 100+ people. Incepted in 2014, with an equity commitment of INR 3,150 million (approximately US$50 million) from Goldman Sachs (NYSE: GS), a leading global investment bank, and Mitsui Global Investment (MGI); the company had hired veteran FMCG professions over the last one year to form its core management team.
About Global Consumer Products Private Limited
Global CP was incepted by Mr. A Mahendran in partnership with Goldman Sachs and Mitsui Ventures. It was born out of an idea to be one-of-a-kind start-up where entrepreneurial ambitions of various stakeholders could be nurtured and given a platform to shine. Global CP is set to make its foray in to the FMCG market with product offerings in chocolates, confectionery, beverages and snacks. The company is looking to build a strong portfolio of consumer brands on the back of secular growth trends driven by increased consumption spending in India. Global CP is building its own sales and distribution network and will create strong consumer franchise by disruptive brand building. Referred to as a "synthetic start-up", Global CP combines entrepreneurial zeal with global strategic, financial and technological expertise of various stakeholders and partners. Global CP sees itself as an eclectic mix of three E's – Experience, Exuberance and Entrepreneur-ism – with the right amount of capital to gain marketplace success.