Anaganaga O Dheerudu Merchandise Launch
10.10.2014
ragalahari.com, 13 января 2011 г.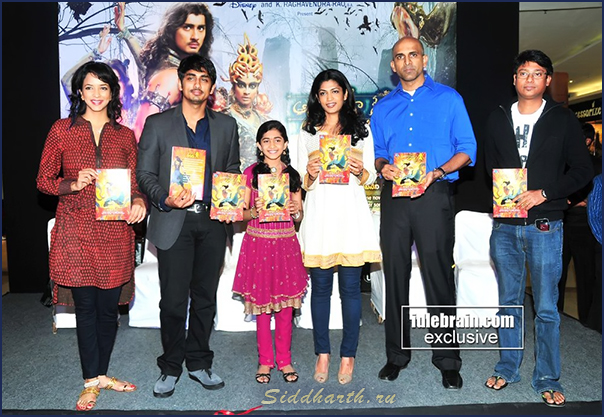 Anaganaga O Dheerudu Merchandise Launch
Walt Disney and K Raghavendra Rao are jointly producing 'Anaganaga O Dheerudu' starring Siddharth, Shruti Haasan, Baby Harshita and Lakshmi Manchu. The film is directed by Prakash Kovelamudi. On the occasion of the movie releasing on January 14th, the film's website launching event took place at Inorbit Mall in Madapur, Hyderabad. The team members including Siddharth, Lakshmi Prasanna, Baby Harshita, Disney's CEO Swathi and producer Devineni Prasad participated.
Disney's CEO Swathi while speaking, "Disney's first Indian movie is going to release tomorrow. Many products relating to this film have hit the market already. The latest is that the movie lovers can download the trailers, stills and various games related to the movie. Along with this we are also releasing the comic book as well as mobile games. We are very happy to make this film in Telugu."
Lakshmi Prasanna said that she is very excited about the release of our film tomorrow. She commented, "For the first time in my life I've acted as a villain. I'm sure people would be scared of me after watching this film. I'm confident that the audience will like this film."
Siddharth said, "This is the first commercial film of the director, yet it generated a lot of hype. AOD is releasing in 700 theaters with 350 prints. Doing this film is like a dream come true for me. I'm very happy as well as proud to note that Walt Disney is entering into Indian market through our film. This would certainly become a very very special film. This movie will take the viewers to a new world. Post release of film, people will forget our original names and start addressing us with our character names. The technicians of this film shaped the film on an international level. This movie would look like a Telugu dubbed version of a Hollywood flick. Every artist did a wonderful job, especially Lakshmi Prasanna, who will remind the audience Mohan Babu garu. Harshita was also equally good."