A Walt Disney film in Telugu!
10.10.2014
rediff.com, 13 января 2011 г.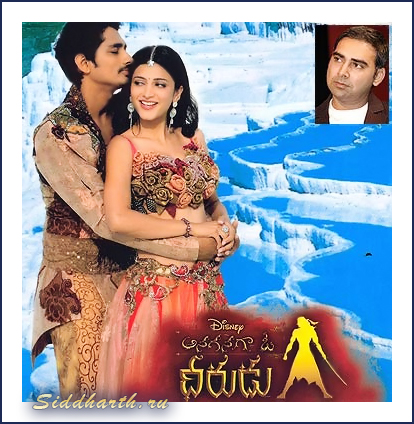 A Walt Disney film in Telugu!
Prakash Kovelamudi, a product of the Lee Strasberg school of Acting in the US is well known for his Morning Raga where he acted with Shabana Azmi. Subsequently he directed A Bellyful of Dreams.
Prakash's full-fledged Telugu feature film titled Anaganaga O Dheerudu (Once upon a Warrior) is releasing on Sankranti (January 14).
Prakash talks about AOD which is part produced by Walt Disney (their first such venture in India) and by his father eminent director KR Raghavendra Rao. Excerpts:
What prompted you to make a socio-fantasy titled Anaganaga O Dheerudu (Once upon a Warrior)?
I've been a fan of fantasy since growing up on my father's film Jagadeku Veerudu Atiloka Sundari. I enjoyed Harry Potter and Pirates of the Caribbean. Arundhati and Magadheera did well which means there is an audience for these kinds of films. I'd written a part fantasy and part real film which later turned into pure fantasy.
Is it fictional or inspired by any mythical tale?
It's not inspired. I've grown up reading Amar Chitra Katha and Chandamama. I like that space and genre. The story telling is reminiscent of Chandamama. The villain is inspired by the Greek villain Medusa in appearance. The swordsman is similar to the one in Japanese comic books (Manga). The influence is a mix of the East and West in terms of styling. Fantasy allows you to draw influences from different cultures.
Radhika Rajamani in Hyderabad